COVID-19 Update to Booking Policies: Risk-Free Cancellations
You don't need any more stress than you have right now. So we're making sure our booking policies are as easy on you as possible.
Through this summer, all bookings can cancel within 14 days of your stay to apply your entire deposit to any visit through 2023.
See you at the ranch!
-The Kelsey Family
Enjoy a Western experience that hasn't changed for a century
Slip away to a bygone era where "changing with the times" just isn't necessary.
The Nine Quarter Circle is a classic Montana dude ranch that looks, works, and feels like it did 100 years ago amid rugged, unchanging landscapes.
The ranch's rhythm remains the hoofbeat of generations of horses born and trained here and the heartbeat of generations of visitors.
Visitors who return year after year to experience wildlife, wild places, and Yellowstone adventures that tie them all together.
For an authentic Montana dude ranch experience, this is your place.
Horseback Riding
Montana horseback riding forms the backbone of your dude ranch experience. When you arrive, you'll be matched with a horse that suits your abilities and riding style. By the end of the week, you'll count that mount a trusted friend. One that's taken you on diverse trail rides full of Western landscape eye candy.
View Horseback Riding
Fly Fishing
Each night, you'll fall asleep to the soothing sounds of the Taylor Fork washing by your cabin. If you're a fisherman, that sound will motivate you to start every morning with a rod in your hand. Nine Quarter Circle's on-site fishing is an angler's dream, and the fishing opportunities nearby are nothing short of legendary.
View Fly Fishing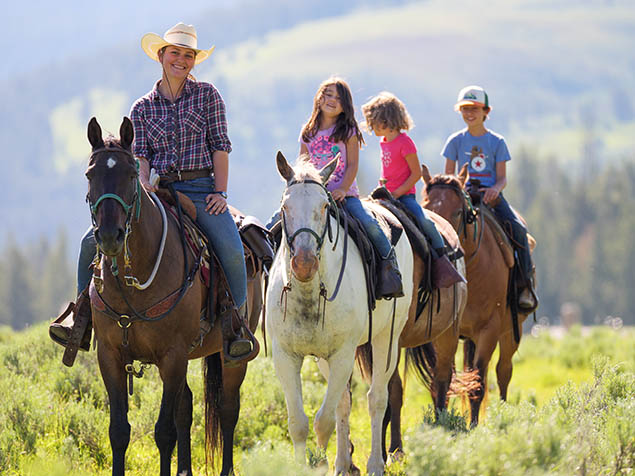 Kids Program
Even the littlest cowpokes at Nine Quarter Circle get to try their hand at horseback riding, hay rides, square dancing and more. You'll enjoy watching your kids spread their wings, make new friends, and try out new activities that you may have a hard time believing - until you see it for yourself.
View Kids Program
A Western history in the wild country outside Yellowstone
The Nine Quarter Circle's roots stretch back to the late 1800s.
The establishment of Yellowstone National Park in 1872 drew homesteaders to the area soon after.
By 1912, several homesteads consolidated into the Nine Quarter Circle Ranch.
The working horse ranch has passed through three generations of Kelseys and still utilizes rustic buildings constructed in the 1920s by former owners.
Our Guests Return Year After Year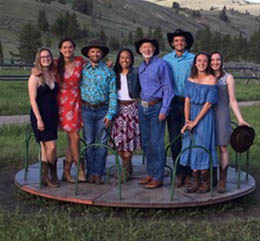 "The riding from the ranch was again spectacular. The fishing was the best that we have ever experienced. The Kelseys were their usual amiable hosts who could not do enough for you."
Kevin G., 15 years
"Our family loves the horses, the landscape and mostly the people. It is a great place to relax and let your kids be free, especially if you are a city dweller."
Lisa B., 6 years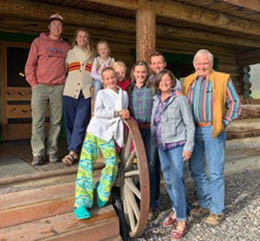 "Truly, the Nine Quarter Circle Ranch is a slice of heaven on earth. The next generation is hooked! Tears at the end of their stay made these grandparents happy, and next summer is already booked. "
Janet F., 30 years
"Amazing family vacation! So beautiful! Loved it and will be back! If you love nature, riding or fishing, this is the place for you!"
Evelyn S., 36 years