A kids program encouraging independence, growth, and fun
Imagine a place where your kids always feel welcome, never feel bored, and have their own activities and new friends to keep them busy.
Imagine having a dedicated staff keep them entertained so you can pursue all you want to do on your Montana dude ranch vacation.
And imagine them sitting at their own tables while dining or having lunch with new friends while you get to know other amazing guests.
Of course, you can always sit together as a family if you prefer.
Your family guest ranch experience at Nine Quarter Circle will give your kids wings as they ride horses, make new friends, and discover new activities in Yellowstone country.
Need some time to do your own thing on the dude ranch?
You can confidently leave even your littlest ones under the watchful eyes of our babysitting staff at no extra charge.
They'll play at the playground, explore nature near the cabins and lodge, make new friends, and even be led on horseback rides around the pasture.
Horseback riding will be a daily part of even your young kids' lives at Nine Quarter Circle Ranch.
Our kiddie wrangler will pair up your 6- to 9-year-olds with their own trusty steeds for the week.
Our wranglers are trained in horse safety and will teach your young ones the basics or help improve their existing skillset on horseback.
Kids take the reins for daily rides, leading to greater independence and confidence.
And they make lifelong friends from the saddle.
Ready to hold the reins...
For ages 10 and up, your kids will feel empowered to take the reins and make their own dude ranch adventures.
Just like the adults, kids this age are put in groups based on their riding skills, whether beginner, intermediate, or advanced.
They'll still eat with the other kids while you enjoy happy hour each day, but otherwise enjoy the activities just like the adults.
You'll see them loosen up through the week to enjoy their Western vacation. They may not even bother with the Wi-Fi password as they experience all the fun activities the ranch has to offer.
One day every week, we take the kids out for an all day picnic, allowing parents to take an incredible all day horseback ride or spend a full day on the river or trail.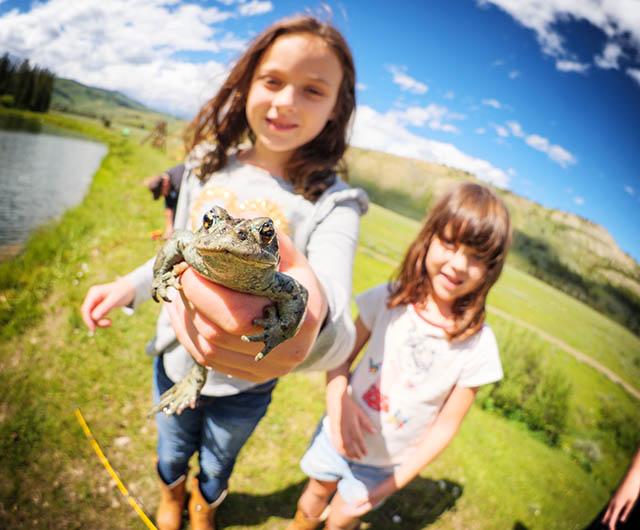 The kids head out with the babysitter for fun by a nearby creek. They'll play games and have interactive activities through the morning.
Out come the hot dogs for a campfire weenie roast by the creek. Your kids will love finishing off their lunch with fresh S'mores.

Everyone heads back to the ranch for a relaxing movie. Most kids are so tuckered out they end up sleeping until your return at 4 p.m.