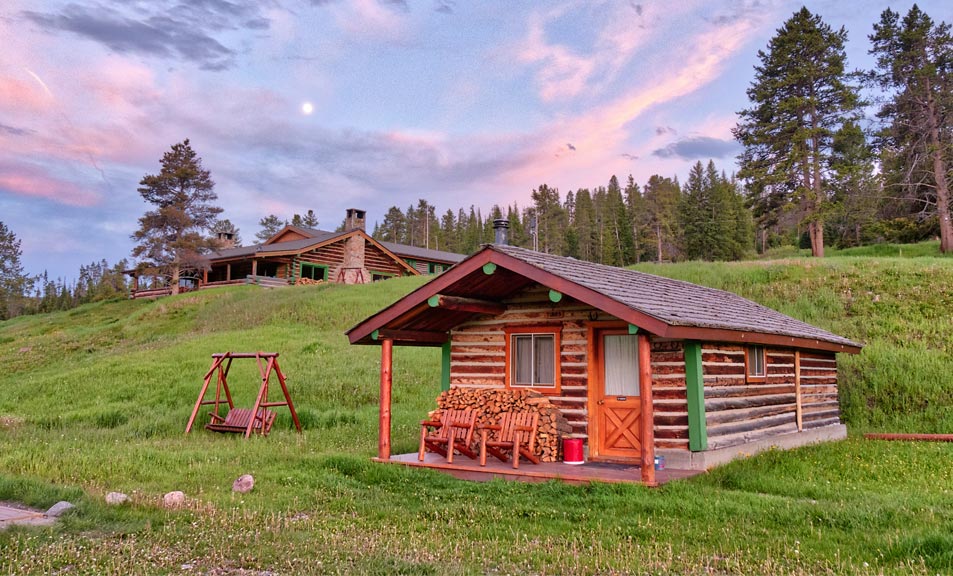 Stay in log cabins with decades of stories to tell.
Sturdy, enduring log cabin outside. Smooth knotty pine paneling inside.
From timbers cut on the property, genuine log construction has tied your home away from home together for decades. Handmade quilts enliven the log beds built right on the ranch.
Each cabin has a private bath, can vary in size from one to four bedrooms, and has a wood stove or fireplace to round out your Western vacation.
You'll feel so at home and well taken care of, you'll hardly even notice there's no TV, phone, fridge, or microwave.
Our one-bedroom cabins each has its own unique charm and personality. Most of these are perfect for couples or families with one, maybe two young children depending on the cabin.
Wood stoves to take the chill off the Montana nights (one cabin only has electric heat)
Porches with patio furniture to let you enjoy the mountain and river view with a good book
Private bathroom
Queen bed in each with additional twin or bunk in some
The two bedroom cabins sleep four to five people. Two cabin styles have different configurations, but either will let you cozy up by a wood burning stove's chill removing warmth.
One style sleeps up to five people with a queen bed in one room and a bunk and twin across the hallway
The second style sleeps up to four people with a queen bed in the main room and bunk in the the second bedroom
Enjoy radiant heat from wood burning stoves (or electric heaters) in every cabin
Private bathroom for just your family in every cabin
Stay in "The Palace," a four bedroom, three bath cabin made for accommodating the largest groups, or "The Cupboard," which is a lot bigger and nicer than its nickname suggests.
Sleep up to 10 people in the same cabin
Enjoy plenty of privacy with private bedrooms, bathrooms
Most bedrooms have their own patio and private entrance
Loft bedrooms that kids love (in Cupboard only)
Wood stoves and electric heat stave off the mountain chills
A Monument to the Old West
Relax, socialize, and have fun in a lodge built in the 1920s from logs sourced on the ranch.
Imagine ending your satisfying days on the dude ranch in a historic lodge custom-built for the community atmosphere the ranch inspires.
In the lodge, it feels natural to get to know other guests and staff around the massive rock fireplace. Even if you come without kids or grandkids, you'll feel surrounded by friends and family.
You'll dine on meals best appreciated after beautiful horseback rides and days on the river with rod in hand. It's the perfect spot to just plain relax in a place that will feel like home enough to call you back year after year.
A Little Time for Adults Only
Dinner is served earlier to the children so the adults can relax and enjoy happy hour before enjoying an adult dinner.
Happy Hour is a time for the adults on the ranch to enjoy adult conversation and get to know the other ranch guests.
We move adults' place cards each night so they can meet as many other guests as possible.
Heart home cooked meals sourced locally and loved universally round out your dude ranch experience with Western flair. Expect delicious and filling food served family style to help you get to know more people.
Watch the herd stream into the corrals each morning. These horses are the heartbeat of 9 Quarter Circle Ranch. Your rides into the wilderness on a horse from our herd get your heart pumping with joy, exhilaration, and the thrill of the Old West.
No spa. No TV. No cell service (though we do have WiFi). Endless possibilities at your fingertips. Jump into a relaxing vacation with hundreds of things to do that you won't find in a city, but will relax you and clear your mind like nothing else.