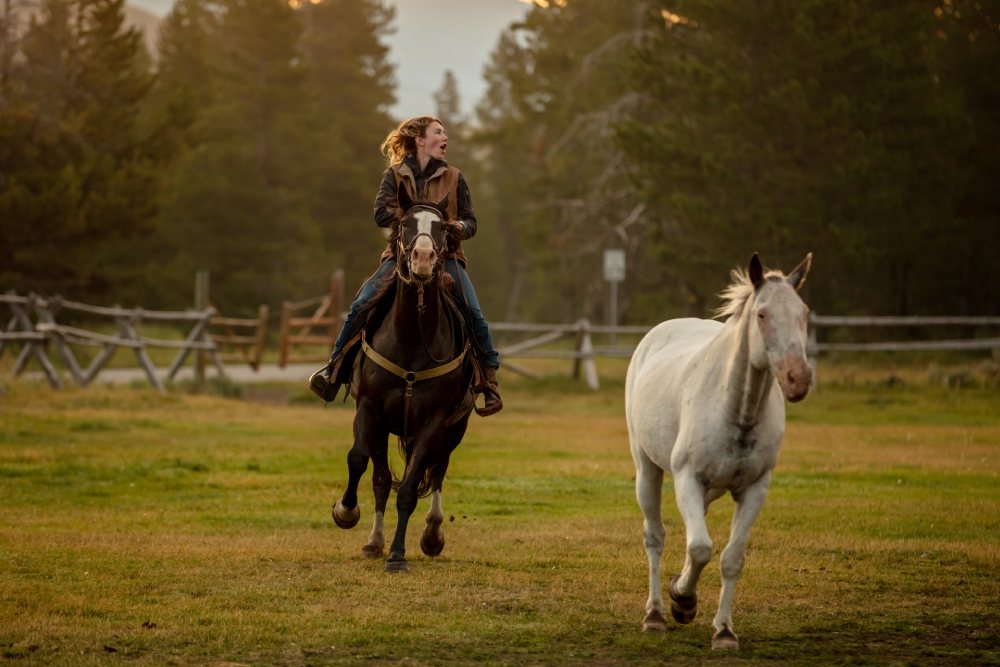 Ride horses born on the ranch & bred to keep you safe and happy
Our horses are bred, born, raised and trained here. A product of a careful breeding selection program designed with guests of varying riding abilities in mind.
We know the disposition, strengths, and entire history of our horses, right down to their lineage.
Enjoy watching the new foals romping around in front of the cabins each day
Ride horses literally bred to make your stay more special
Learn about the history of the Nine Quarter Circle horses
The Kelsey family names the new arrivals after some significant event, milestone, or fun category and they become part of the Nine Quarter Circle Ranch family for their whole lives.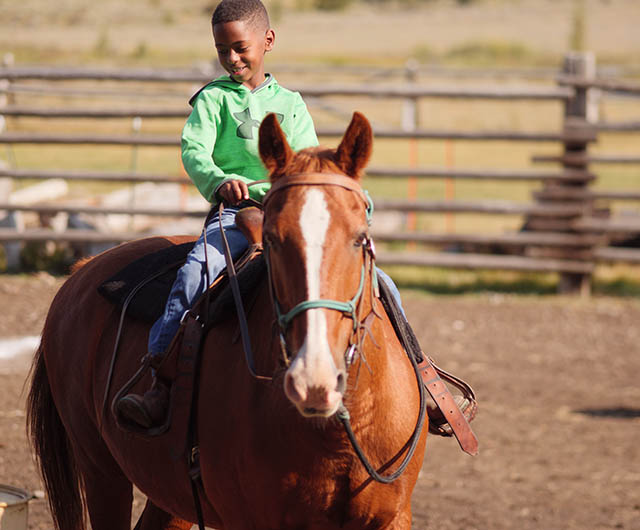 First time riding? Not to worry. Our well-trained, beginner appaloosas will be specifically paired with you.
Enjoy instruction from our wranglers at the start and throughout your dude ranch experience. Even newbies go on incredible rides to the best views in Montana.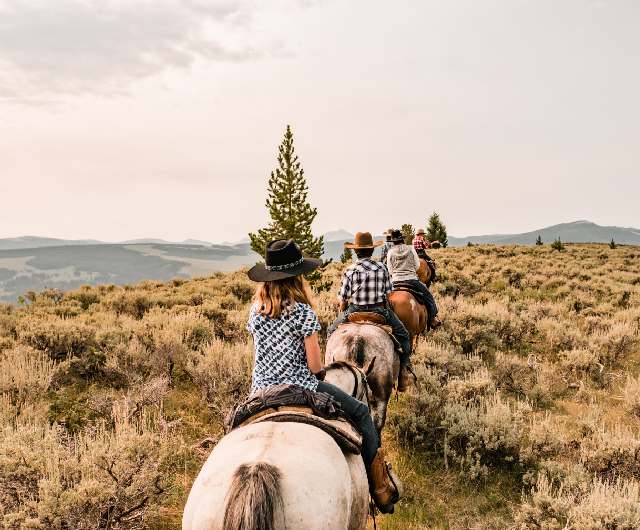 Many beginners quickly become intermediate or even advanced riders during their stay at the ranch.
Intermediate riders begin learning to trot, take faster paced rides, and start tackling more difficult terrain than the beginners.
Our advanced rides are designed to allow you to ride at a faster pace and get deeper into the backcountry.
You'll be matched with a horse that suits your ability level so that you can get the most out of your riding experience.
Learn to Ride Horses - Montana Style
Monday's activities at the ranch put you in full-swing riding mode once you complete the horseback riding orientation
While required for all guests, if you're new to riding, this will be an important instruction to set you up for safe riding.
If you've ridden before, it will be a great reminder and possibly an introduction to the Western style of riding.
More riding pointers come throughout the week as you spend more time on horseback with our wrangling staff.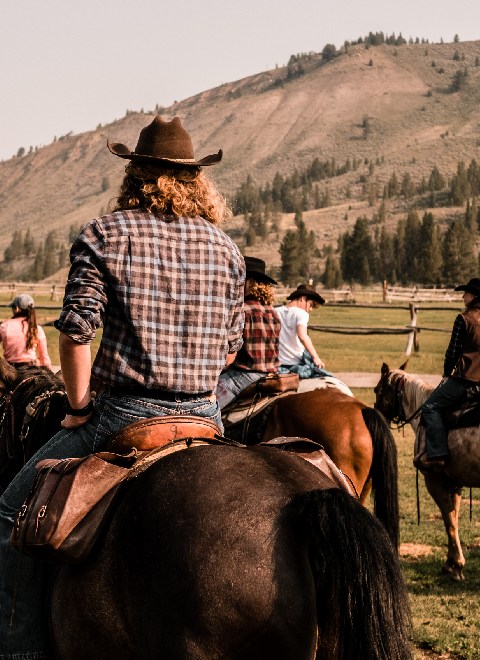 Dude Ranch Trail Rides & Horseback Fun
No two trail rides feel the same in Yellowstone Country
You choose the trips best for you from the following four to five rides leaving the corrals daily:
Two two-hour rides each day for all levels of riders.
One all-day ride & one half-day ride during the week for intermediate to advanced riders ages 13 and up.
Overnight pack trip each week for riders ages 13 and up, taking you into the high country to camp near a mountain lake or stream. (Must have minimum of 6 participants)
Extended pack trips offered in late summer and early fall into the Taylor Hilgard Wilderness Area, the National Forest surrounding the ranch, and Yellowstone National Park. These trips are booked separately from a stay at the ranch. Yellowstone National Park pack trips must be booked by January 1. (Must have minimum of 6 participants)
Gymkhana on Friday mornings — fun, friendly games on horseback with awards for equestrian skill.
Dinner ride on Tuesday for the whole family to enjoy together. This is the perfect opportunity for those in the Rough Riders program to show off their new skills in the saddle.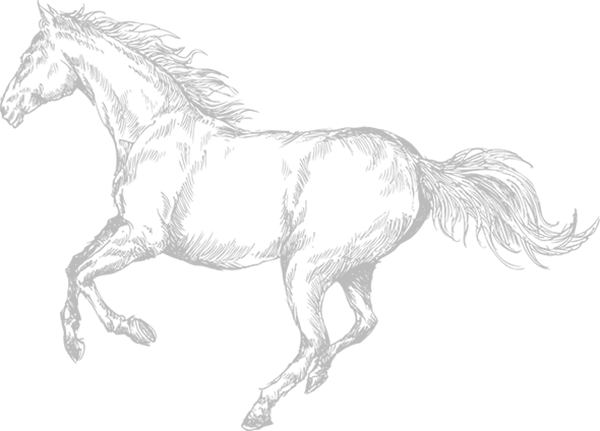 Ride a horse paired to you in personality, temperament, & ability
Before you show up, we'll match you to your mount through a riding questionnaire we send to all guests. The horse will be yours for the duration of your stay.
Almost all horses in our ranch string are Appaloosa, a breed specifically chosen for stamina, sweet temperament, and suitability to mountain trekking, not to mention their beauty.
In addition, Appaloosa horses seemed particularly appropriate given their origin in nearby regions. The Nez Perce tribe of present day western Idaho, Washington, and Oregon developed the breed through strict and selective breeding, establishing breeding herds before 1750.
By 1806, when the Lewis and Clark Expedition met the Nez Perce, Meriwether Lewis was moved to write about the excellent quality of the tribe's horses.
Weight Limit: For the safety of our guests and horses, the weight limit is 225 pounds with a maximum BMI of 30. Pregnant women will not be allowed to ride. It is your client responsibility to provide your true and accurate weight. Pregnant women will not be allowed to ride. You must be physically able to mount your horse unassisted.